---
2021 short breaks to Paultons Park and Peppa Pig World!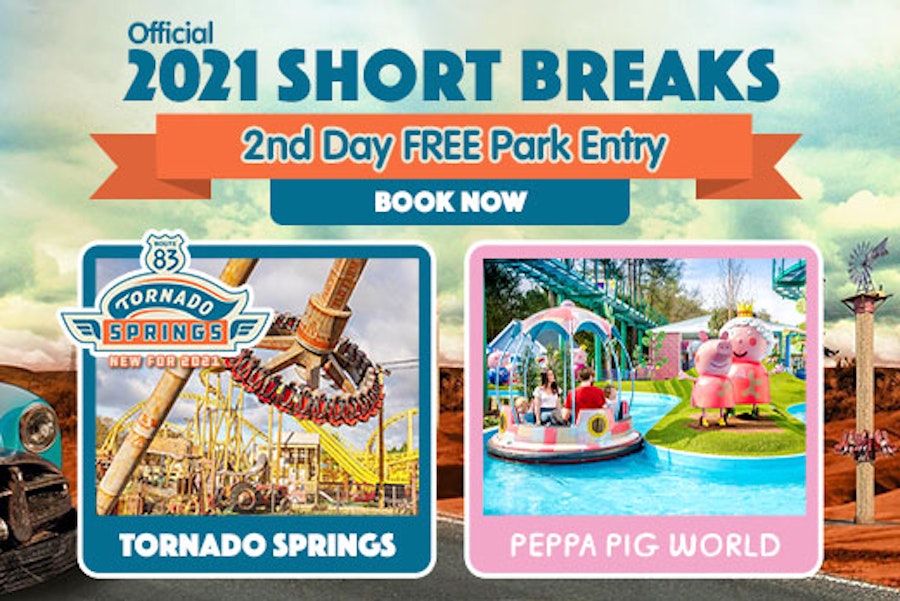 Be the first to book your Official Paultons Short Break for the best rates and availability! Packages include an overnight stay in a family-friendly nearby hotel, a delicious breakfast and entry into Paultons Park, plus your 2nd Park Day FREE!, saving you at least £140 per family*!
Now's the perfect time to book your family short break!
Book with Confidence! If the park has to close because of local or national restrictions, you can choose another date to visit or receive a full refund with our Paultons Breaks Book with Confidence Guarantee.
Tornado Springs – a BRAND NEW World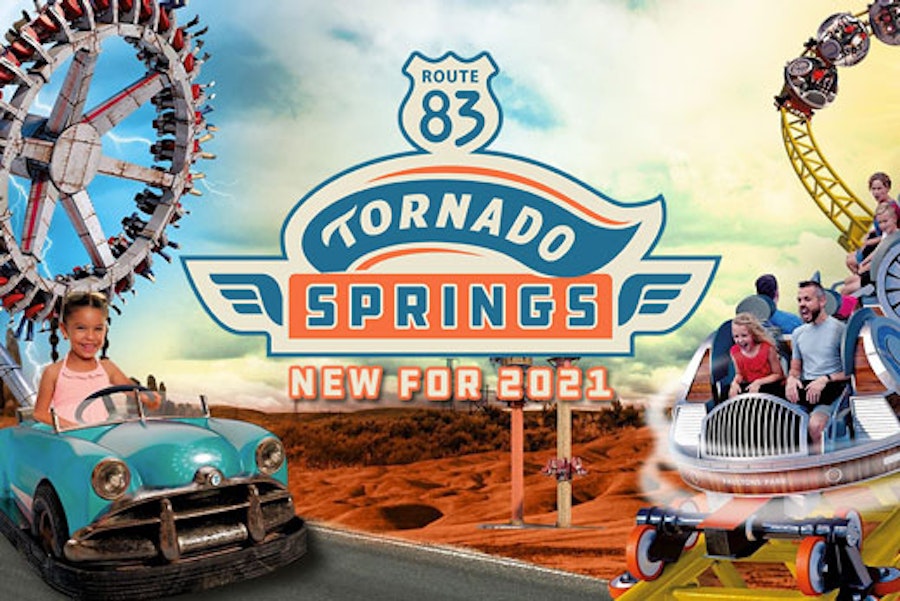 Come on Storm Chasers! Join us in Tornado Springs, a brand new world featuring 8 incredible new rides and experiences including a spinning coaster, gyro swing ride and a driving school attraction. Set in a midwest desert resort town in the American heyday of the 1950's, a trip to Tornado Springs is a vacation like no other!
Peppa Pig World at Paultons Park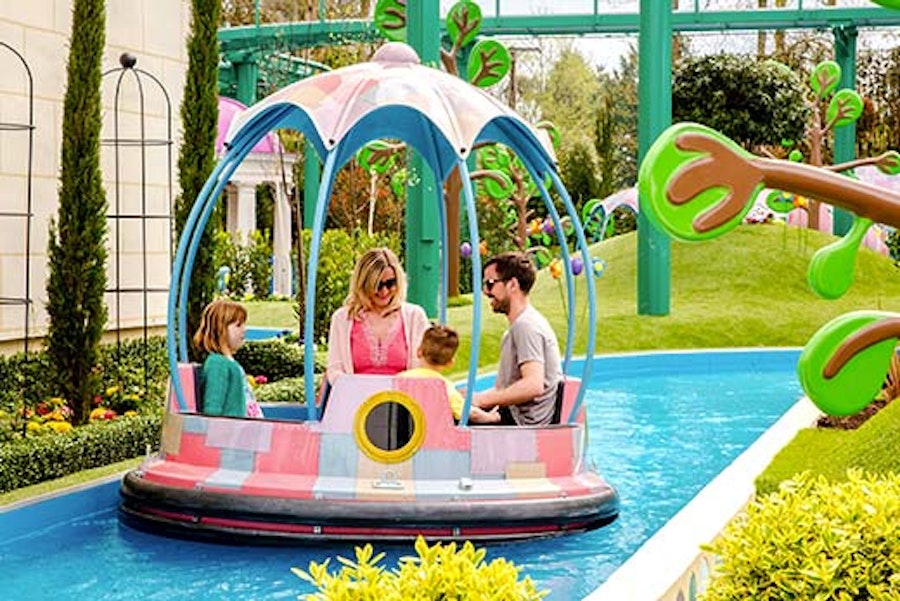 Come and visit the world's largest and first Peppa Pig World with 9 rides! Meet Peppa and all her friends, enjoy classic favourites such as Daddy Pig's Car Ride and George's Dinosaur Adventure and experience the two newest attractions – The Queen's Flying Coach Ride and Grampy Rabbit's Sailing Club.
With your 2nd Park Day FREE, you can take your time exploring themed rides and attractions, making it the perfect short break destination! Treat your little ones to an unforgettable Paultons Park and Peppa Pig short break!
Rides and attractions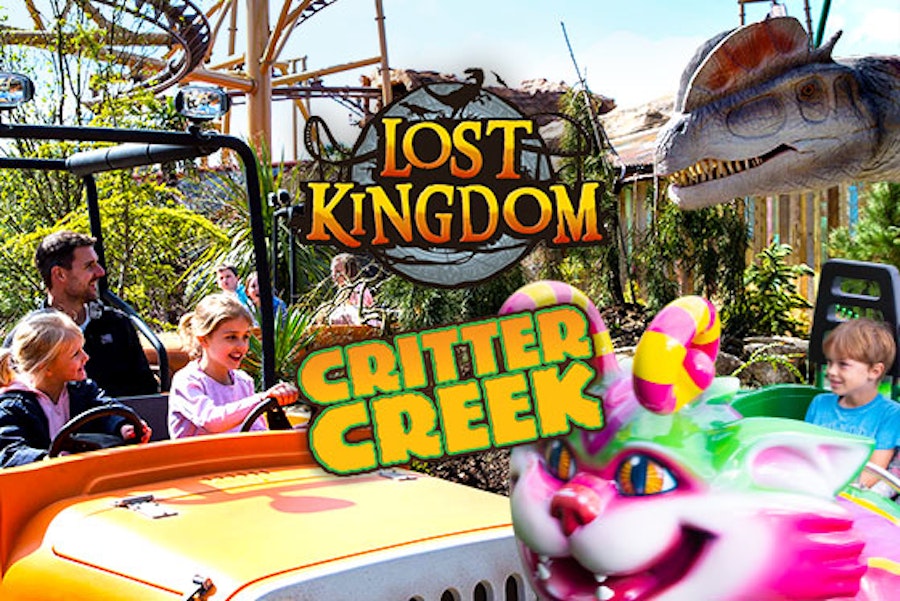 Paultons has a wide variety of children's, family and thrill rides to enjoy, including roller coasters, water rides and many more. As well as Peppa Pig World and Tornado Springs, there are other different worlds to explore at Paultons Park, such as: 
Lost Kingdom
Home to a whole host of Dinosaur attractions including two world-class rollercoasters, life-like animatronic Dinosaurs and much more, Lost Kingdom is perfect for older children seeking a thrill!
Little Africa
See the Park's own little corner of Africa and discover the amazing animals and birds of the savannah. Your little ones will love seeing the cute meerkats and the African pygmy mouse!
Critter Creek
Critter Creek is a fully themed world of strange, mixed-up creatures known as the 'Curious Critters'! Take a ride on the Cat-o-pillar rollercoaster – it's a perfect family coaster to enjoy together.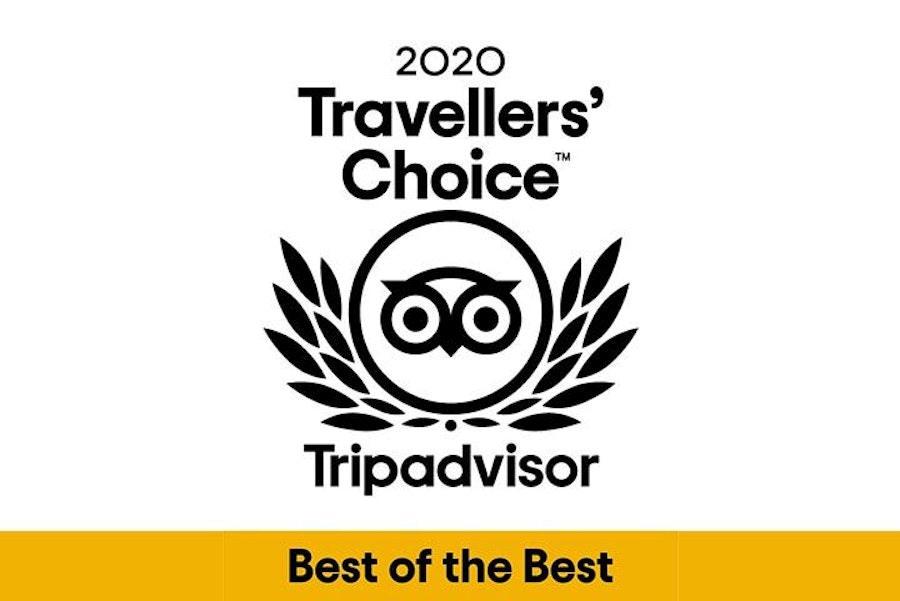 For the 5th consecutive year, Paultons Park has been named the UK's number one amusement park in TripAdvisor's Travellers' Choice Awards.  

Home of the UK's first and official Peppa Pig World, as well as over 70 rides and attractions across 140 acres of parkland, Paultons Park is the first amusement park in history to have received this award 5 years in a row.

Terms and conditions apply. *Saving of £140 is based on a family of 4 (2 adults and 2 children). 2nd Park day FREE is only available when the park is open on both days of your stay; you will always be informed regarding your package at the time of booking. Your 2nd day free is available on a consecutive day to your first day in the park which can be selected at the time of booking. Breakfast is included unless stated otherwise at the time of booking. Children under 1 metre (when wearing shoes) do not require a ticket and go free. For technical, operational, weather, or other reasons, any attraction, ride or facility may be closed, altered, removed or be otherwise unavailable at any time without prior notice.