---
Paultons Breaks Book with Confidence Guarantee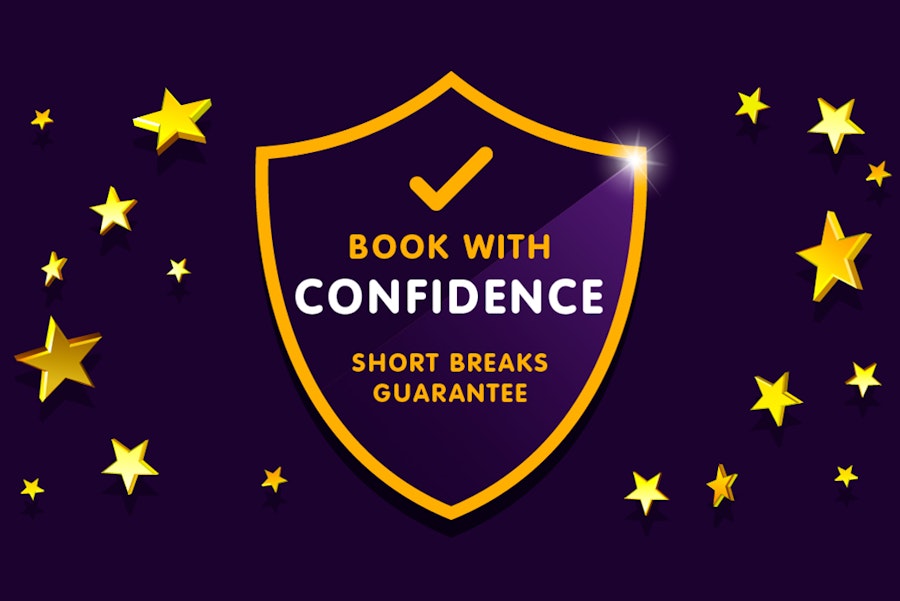 We've put ample safety measures in place to ensure you and your family have a safe Short Break, full of the same magic as always. 
We've been awarded the VisitEngland industry approved 'We're Good to Go' charter mark, which verifies that we meet the Government and public health guidance on COVID-19 and that we meet all the required health and safety measures, to ensure we deliver you the best possible guest experience in light of the enhanced procedures we are operating within.
We want all of our guests to feel as confident about their visit as they do about their booking. That's why we've introduced a new 'Book With Confidence Guarantee'.
OUR SHORT BREAKS BOOK WITH CONFIDENCE GUARANTEE AND PROMISE TO YOU:
Want full flexibility and peace of mind for your Short Break? Add Cancellation Protection to your booking:
Our Cancellation Protection allows you to cancel your booking at any time up to 36 hours before the date of your stay for any reason and you'll receive a 100% refund (less any amendment or other surcharges). 
When you add our Cancellation Protection to your booking, you will have peace of mind that – whatever happens – your money is protected. Add this on the payment page for just £25.95. Please note: cancellation protection is non-refundable.
Our COVID Guarantee if you don't have Cancellation Protection, in the event of:
1. Government travel restrictions
2. Sickness / Isolation due to COVID-19
You will be issued a voucher that you can use as payment towards any future Short Break (any package, hotel, party type).
If either of these affects your Short Breaks booking and would like to discuss your booking, please contact our Guest Experience Team 3 days prior to your stay.
In the event of Paultons Park / Peppa Pig World or Hotel closure due to COVID-19:
As a Short Breaks customer, you will automatically receive a voucher via email to use as payment on a future break - there is no need to contact us, you will receive a voucher with all the details for how you can redeem this against a future stay.*
Terms and conditions.
The Book with Confidence Guarantee is applicable to Paultons Park and Peppa Pig World Short Breaks packages only.
*All vouchers issued on or after 16th August 2021 must be redeemed within 6 months of the issue date and will be non-refundable. (Your stay date does not have to be within the 6 month period). Any remaining balance left on the voucher will expire after 6 months of the voucher being issued.
Vouchers will be issued no less than 36 hours prior to arrival (in the event of sickness/isolation due to COVID-19 or Government travel restrictions).
If you need to make any changes to your booking because you are self-isolating, you must contact us 3 days prior to your stay.
All other standard booking terms and conditions apply.
Vouchers are subject to terms and conditions.
If you chose to amend your Short break to a new date – please be aware if your new booking is more expensive than your original booking, you will need to pay any additional costs in full at the time of amendment. Any alteration requested within 24 hours of the date of ticket entrance to Paultons Park or within 24 hours of the hotel stay will be treated as a cancellation by you and you will have to pay the cancellation charges set out in clause 5 of our terms and conditions.
The Paultons Breaks COVID-19 Book with Confidence Guarantee is available until further notice.
Our cancellation protection is a separate offer and remains available at the same time as the COVID-19 Book with Confidence Guarantee.