2 Days For 1 at Paultons Park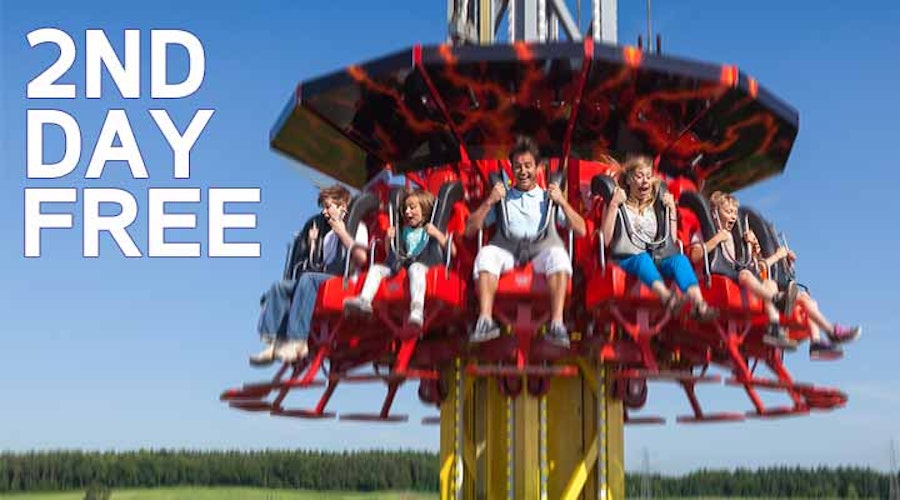 Get 2 Days For 1 worth over £80!
Available on all official short breaks with Paultons Breaks.
There are over 60 rides and attractions across both Paultons Park and Peppa Pig World and many families find that at least 2 days are needed to get the most out of visiting the Park. Paultons Breaks are delighted to be able to offer you a 2 Days For 1 on your Park entry, meaning that you can enjoy your visit to Paultons Park, Peppa Pig World, and the New Forest for longer. PLUS an amazing night's stay in a hotel to top off your break!
Our 2 Days For 1 offer is even on through half term! So why not make it a holiday to remember? Prices start from just £40 per person!
Paultons Park
Paultons Park has lots of fun thrills to enjoy. You can rise up and spin on MAGMA, a volcano-themed drop ride, swirl around on The Sky Swinger, and slide from 11 metres high on the Raging River Log Flume boat ride.
Peppa Pig World
Peppa Pig is a little pig who lives in a house on top of a hill with Mummy Pig, Daddy Pig and her brother George — find them in their very own land of Peppa Pig World at Paultons Park. As well as Peppa Pig-themed rides and restaurants, her and George will also be around to say hello in this magical land.
Did you know: Peppa Pig's favourite food is chocolate.
Birds and Animals
As well as enjoying great rides, you can meet some furry and feathery animals at Paultons Park. Look out for tropical birds, flamingos, meerkats and penguins.
Did you know: You can watch the penguins being fed daily at Paultons Park.
Terms and conditions apply. Offer subject to change and availability. Children must wear shoes when being measured for height. Saving prices quoted are based on the cost of a 1 day ticket for two adults and two children booked in advance from paultonspark.com and may be subject to change and availability. 2 Days For 1 is a Theme Park entry day that can be used on any day during your break, between your hotel check-in and check-out date. Lead price of £40 per person is based on 2 adults and 2 children sharing a room at the Hilton Basingstoke on selected dates.